Practical in design.
Reliable in use.
Firefighters walk through fire and water and over rubble and scree, withstanding freezing cold and blazing heat — and their boots must protect them in any of these situations, often for hours at a time. Reliable protection, utmost stability and robustness are essential, in addition to boots that are lightweight, comfortable and practical. With the BOROS B1 as a slip-on boot, BOROS B2 with the combination of lacing and zipper, BOROS B3 Cross as a short boot, and BOROS B4 with the Rosenbauer quick-release fastener, they meet the diverse requirements and individual needs of firefighters in the field.

The BOROS fire fighting boots are certified according to EN 15090 F2A HI3 CI AN SRC and EN 61340-4-3.
BOROS B1:
Easy to pull on.
Immediate protection.
Always available.
Around the world, BOROS B1 pull-on boots are a durable and proven key item in a firefighter's protective equipment.
Simple pull-on system.
In addition to the speed at which you can put on and take off the boots, the system offers further advantages with its characteristic low weight and easy cleaning.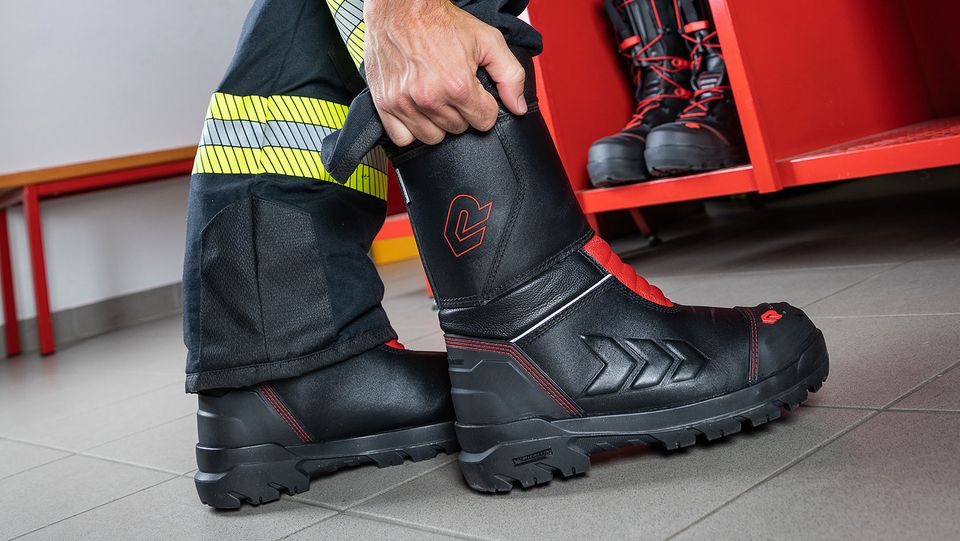 Optimal freedom of movement.
The flex zone around the instep and ankle area ensures great freedom of movement in every situation.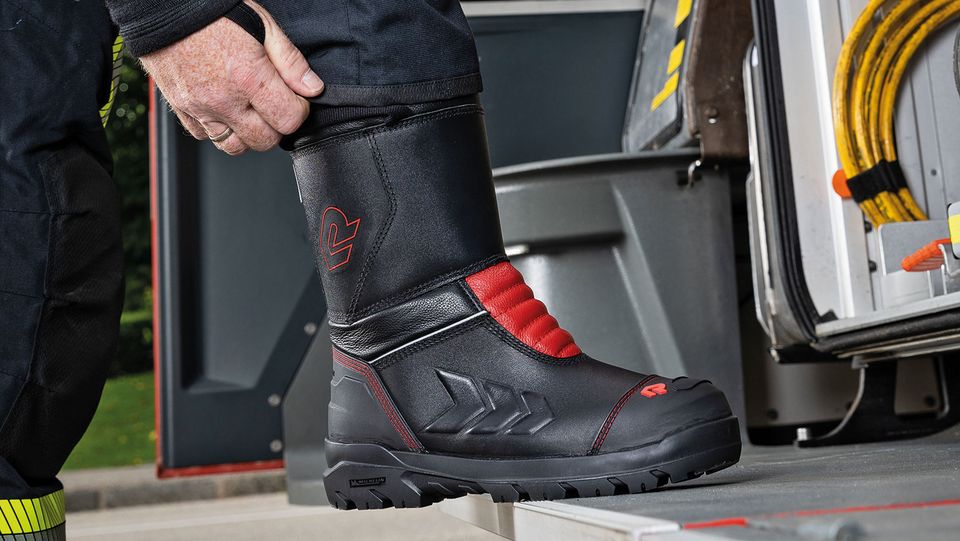 BOROS B2:
Rapid entry.
Immediate support.
Two are better than one.
The combination of the BOROS B2's lacing and zipper promises perfect support and quick donning when you're in a hurry.
Individual fit.
The 2-zone lacing allows the upper and forefoot to be adjusted independently of each other. Thanks to two innovative lace stoppers, this individual adjustment remains.
No time to waste.
Once laced, the boot is simply put on and closed with the quick-entry zipper for any further use.
BOROS B3 Cross:
Laced up in no time.
Flexibly used.
Keep it short.
The short boot BOROS B3 Cross with shaft height C is made for firefighting and rescue operations.
Easy fit - Boa® Fit System.
Easy operation by means of a dial in combination with rubberized stainless steel cords. Ideal for variable and even lacing.
Adjusted to every situation.
Whether tightly laced or looser fitting - within seconds the desired setting can be made via the turntable.
BOROS B4:
Quick fastener.
Maximum comfort.
Revolutionary closure system.
The Rosenbauer quick-release fastener of the BOROS B4 combines the advantages of all known types of fastener: simple operation, individual adjustability, and you can take the boot on and off rapidly.
The perfect fit in seconds.
Once adjusted, the BOROS B4 can be opened and closed in seconds. Because – with a single pull on the strap – the boot fits the foot perfectly and can be released with just one click of a central buckle.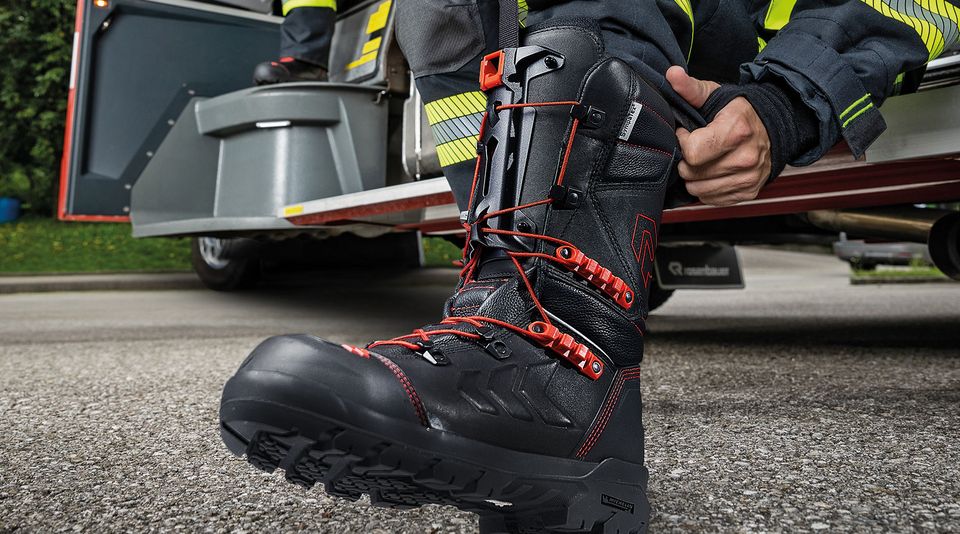 Even more mobility.
The special flex zone in the ankle area allows for natural flexing movements, while the foot remains protected, e.g. from buckling on uneven terrain.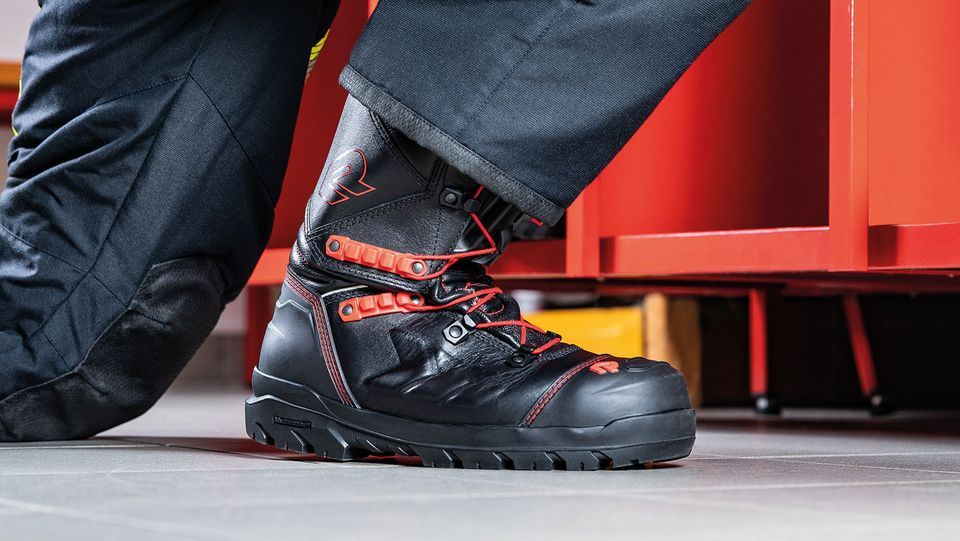 BOROS. The new
generation of boots
from Rosenbauer.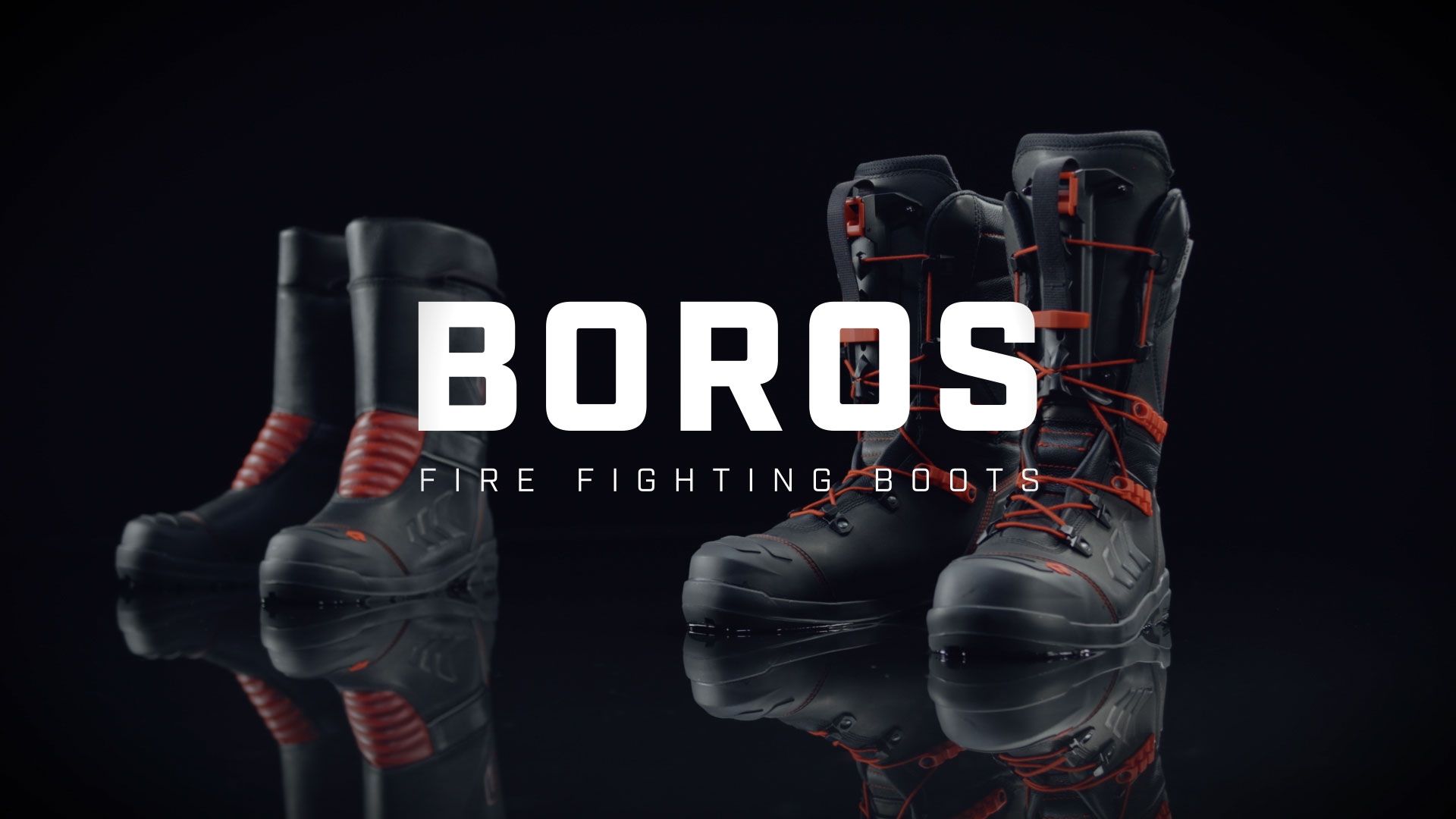 Convincing performance.
Well-reasoned efficiency.
The sole of a boot determines its functionality and usability. This is because only grippy, profiled soles offer enough grip and sufficient hold, irrespective of the surface. When it comes to firefighting operations, another factor is that the sole of the boot must function in all temperature ranges.

Together with renowned tire manufacturer Michelin, a sole was exclusively developed to meet all these requirements. It is non-slip and sturdy in every situation, as well as resistant to oil, petrol and most acids. The antistatic rubber compound prevents sparking and provides decisive protection in potentially explosive areas.
For the moment,
when movement is key.
Our innovations
speak for themselves.
BOROS fire fighting boots:
designed for maximum safety.
Learn more!
Release after release:
more innovations are coming soon!
Rosenbauer has a track record of changing the future. And as a world leader in technology and innovation, we've already revolutionised the market on more than one occasion - and we're ready to do it again thanks to our groundbreaking new products.