Outstanding driving dynamics.
An innovative design.
Maximum performance, safety and functionality: The Rosenbauer PANTHER is already in its fourth generation – one of the most successful, versatile, efficient airport firefighting vehicles available. Around the globe, in more than 100 countries, emergency responders rely on the high performance of the entire series (4x4, 6x6, 6x6s and 8x8) in all operational situations.
First-rate performance.
Versatility.
Perfect harmony.
Chassis, vehicle body and extinguishing technology: The PANTHER is developed and manufactured by Rosenbauer. The vehicle and extinguishing technology are perfectly coordinated, guaranteeing a high level of user-friendliness and low maintenance requirements in every operational situation.
Maximum safety.
This series is undergoing continuous further development with a focus on the safety of the vehicle and its occupants. With special features such as a crash-tested cab, optimized all-around visibility, ESC, side airbags with seatbelt tensioners and an innovative lighting design, it guarantees maximum safety for everyone involved in transport and firefighting.
Comfort in any situation.
In the field, every handle has to sit right, and comfort becomes a safety issue. The state-of-the-art cockpit design offers the driver and the team crucial freedom of movement, and the ergonomic arrangement of the controls, along with the control handle, make handling easier in every operational situation.
Uncompromising driving dynamics.
A sporty design: The PANTHER 6x6 accelerates from 0 to 80 km/h in up to 28 seconds. A low center of gravity and a chassis designed for its specific use also ensure outstanding driving dynamics in every situation.
High performance.
The perfectly integrated, specially developed extinguishing technology provides a strong, reliable extinguishing system in any application situation. Powerful pumps with normal pressure up to 10,000 l/min and high pressure up to 400 l/min and roof turrets with a flow rate of up to 9,000 l/min at a throw range of up to 100 m set new standards for the industry.
PANTHER electric
Established functionalities. Future-oriented technology.
With its revolutionary PANTHER electric, Rosenbauer is bringing the current generation into the age of e-mobility. It combines the previous generations' safety and functionality with the advantages of electromobility, offering outstanding performance while reducing noise and emissions – without compromise.
A low-emission drive.
Uncompromising endurance.
Locally emission-free.
Thanks to its mainly electric operation, the newly developed PANTHER electric emits no exhaust in this operating phase and has significantly lower noise emissions than conventional airport firefighting vehicles.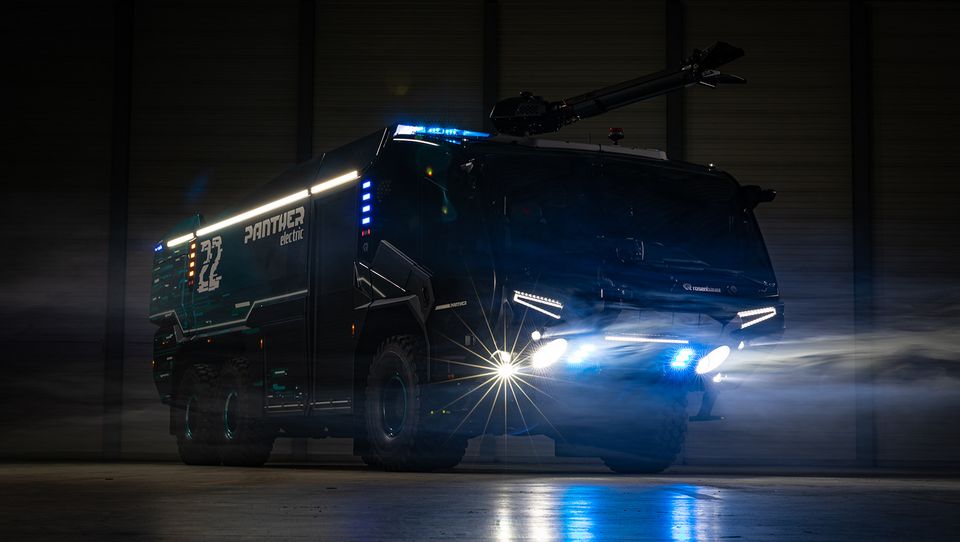 Electrifying performance.
By combining the advantages of the PANTHER series – such as a low center of gravity, maximum torsional rigidity and tracking stability – with the instant availability of power in e-mobility, we took a system that already offered great driving dynamics and made it even better.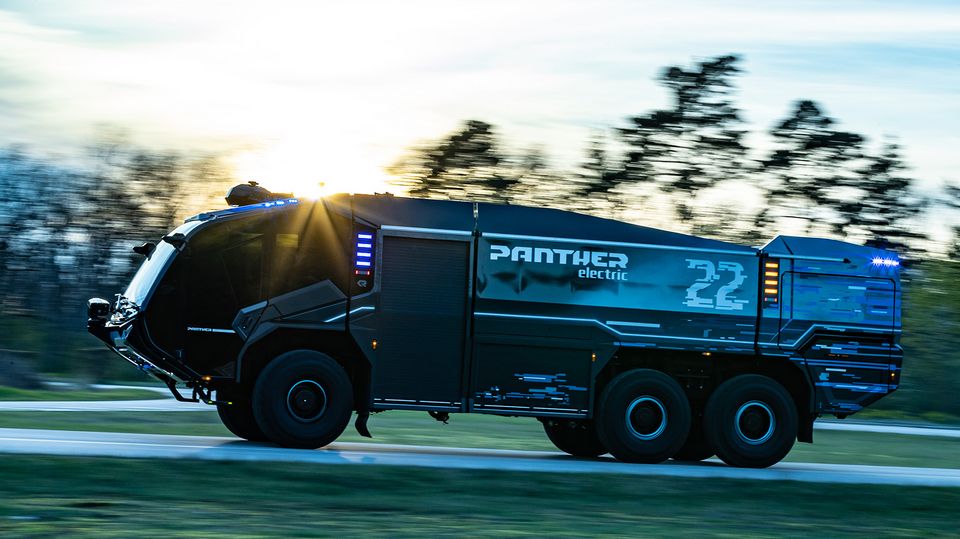 Tailored energy capacity.
The number and capacity of the batteries are tailored to the airport firefighting vehicle's application area. Typical deployments can be completed several times at maximum speed for two to three minutes; when energy consumption is lower, more frequent deployments are possible. Regenerative braking utilizes the high deceleration energy during the braking process to recharge the batteries.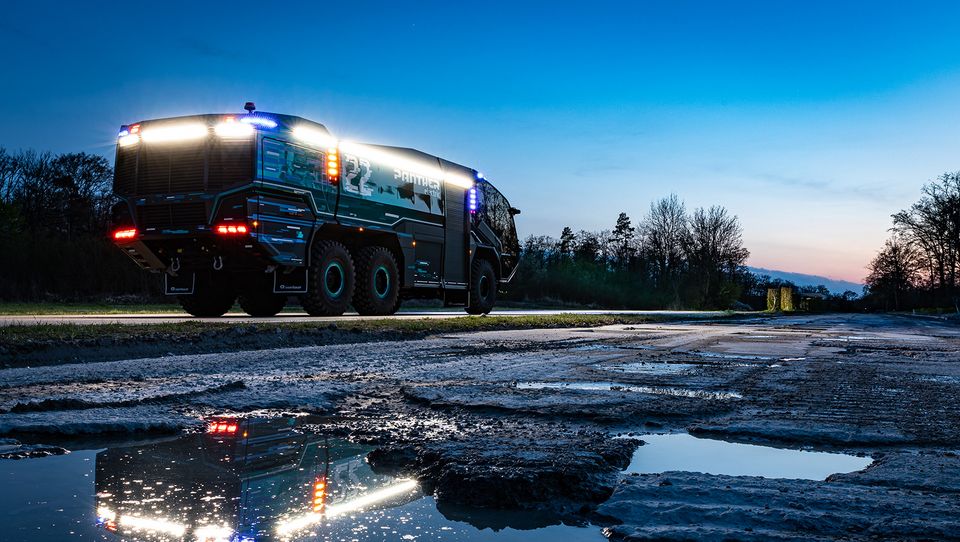 Uncompromising extinguishing performance.
Even in purely electric operation, there are no extinguishing performance limitations compared to a conventional PANTHER in terms of pumping and throw distances.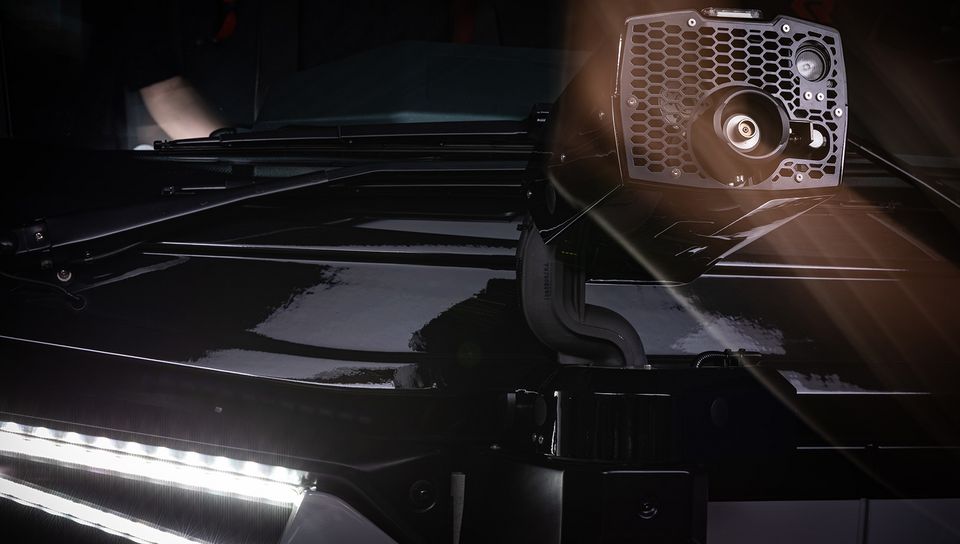 The energy backup system.
For extended runs or training operations, the integrated energy backup system (EBU) also provides an onboard fallback level to supply additional energy to the vehicle from a diesel engine. The EBU can provide more electrical energy to the system and boost performance.
Individual charging.
From 0% to 100% in about 45 minutes: The PANTHER electric can be charged with both direct and alternating current and has a maximum charging capacity of 250 to 300 kW (DC). Therefore, enough energy for a typical deployment involving high-speed travel and applying the extinguishing agent tank can be provided in about 20 minutes.
Reliable and responsible.
Robust, durable components from quality manufacturers that already have years of electromobility experience make the PANTHER electric reliable and safe. Electromobility requires care and responsibility. The PANTHER electric's functional safety concept meets current industry standards.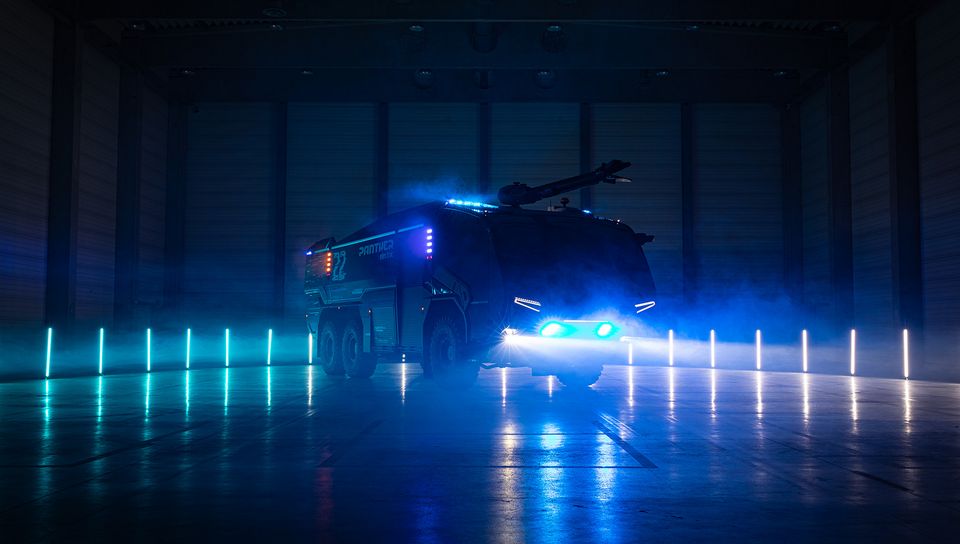 An efficient lighting concept.
Consisting of scene lighting from high-power LED strips and groundbreaking airfield floodlights, the new lighting concept provides support both for driving to the site and for working at it.
Driving performance
at the highest level.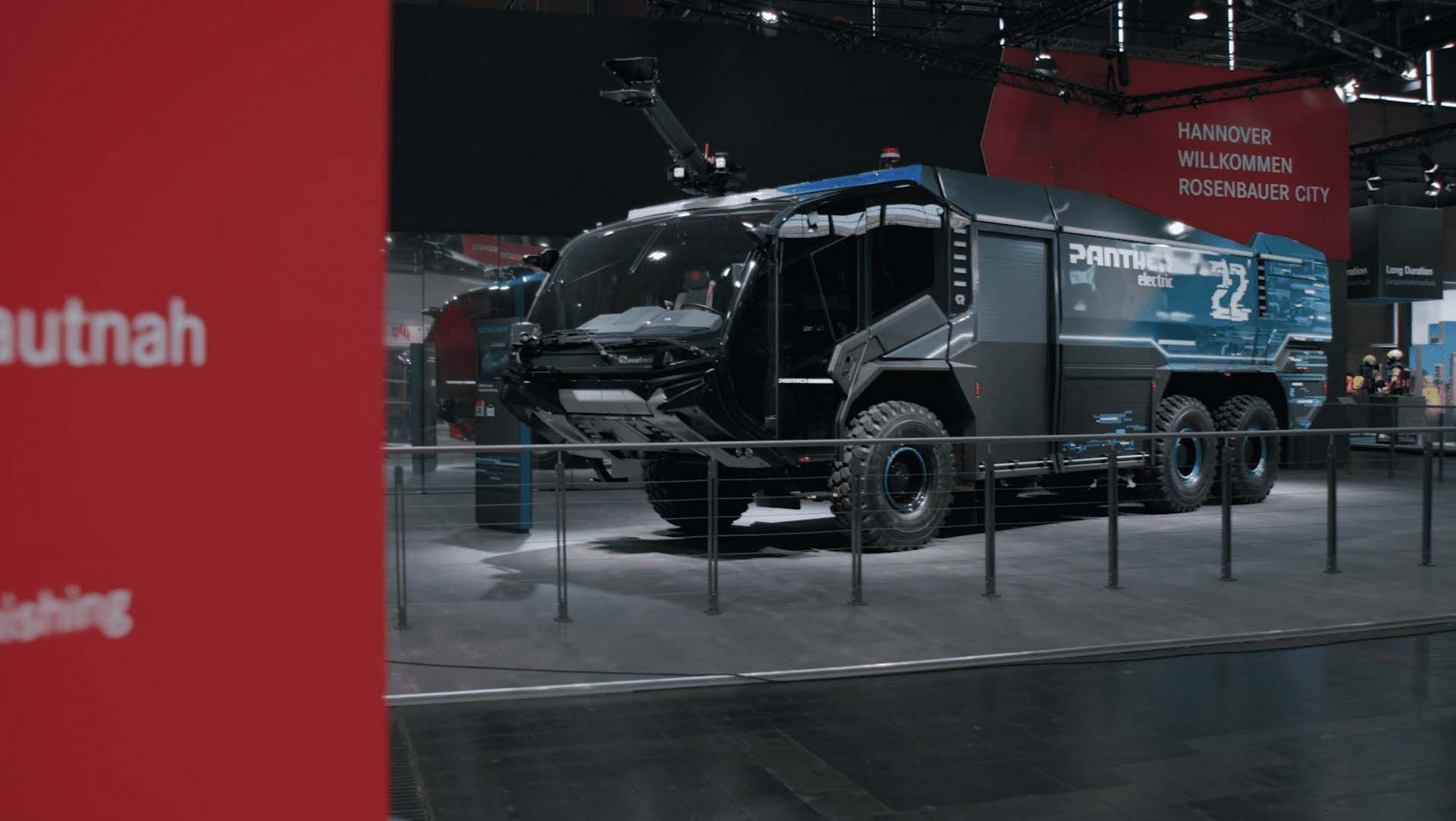 Frequently asked questions.
The PANTHER electric is a near-series design concept currently in transition to series development. The electric drive platform will be made available to several PANTHER models and rolled out gradually. The first of these will be the PANTHER 6x6, starting in 2024.
The PANTHER electric is being developed as an airport firefighting vehicle without compromise. Like the current series, the electrified drive variant is also expected to meet globally applicable standards and airport requirements such as ICAO, NFPA 414 and FAA.
We consider the PANTHER electric a fully electric airport firefighting vehicle. All functions, such as driving and firefighting, can be handled on a purely electric basis without compromise. A so-called range extender (compact diesel engine) is available as a fallback. In terms of the vehicle topology, this type of drive is referred to as a serial hybrid.
The PANTHER electric uses its own e-drive platform so it can meet all the requirements of an airport firefighting vehicle efficiently. The electric drive is robust, and its components, including the battery pack, have already proven themselves many times in other applications. Rosenbauer's development partner is Magna, one of the world's largest automotive suppliers and mobility technology companies. Thanks to many developments in the field of e-mobility, Magna also enjoys a reputation as a globally recognized development partner for alternative drive systems.
The number and capacity of the batteries are tailored to PANTHER electric's specific use. The battery capacity is designed for purely electric vehicle operation. As a rule, the battery capacity should be able to withstand training exercises, transport and deployments. We consulted several customers in advance and took a wide range of boundary conditions into consideration when developing the performance and operating strategy.
If the battery reaches a critical state of charge where it would no longer be possible to complete a deployment, the energy backup system automatically starts charging the batteries, allowing the vehicle to continue operating.
Efficient charging solutions are the key to a smooth transition to electromobility. The PANTHER electric's charging connection will meet current automotive standards and be suitable for various charging methods. Charging times of approximately 20 to 45 minutes will be achievable in direct current (DC) operation, depending on the infrastructure and the SOC ("state of charge"). In addition to fast charging, charge retention can be ensured in the alternating current (AC) area.
The main difference between the two products is the drive form/drivetrain. While the PANTHER 6x6 had a powerful diesel engine for both driving the vehicle and powering the pump, the PANTHER 6x6 electric uses electric motors. The PANTHER electric's design and lighting concept have also undergone further refinement over the current PANTHER series. They are basically identical in terms of the cab, extinguishing system, operating concept and body structure.
Battery technology research is making rapid strides. Our current assumption is that there will be few or no differences between the current PANTHER and the PANTHER electric in terms of the extinguishing agent volume. As in the current generation, the specific volume depends on the specific configuration.
The total lifetime of the batteries depends strongly on the usage profile (environmental conditions, usage intensity, charging cycles, charging power, etc.). In the automotive sector, a lithium-ion battery still has approx. 80% of its original capacity after 8 to 10 years.
Electrically powered trucks and special vehicles will require a greater investment, especially at the beginning. Prices will decrease over time due to the technological shift from internal combustion engines to electric mobility.
Welcome to the
world of tomorrow.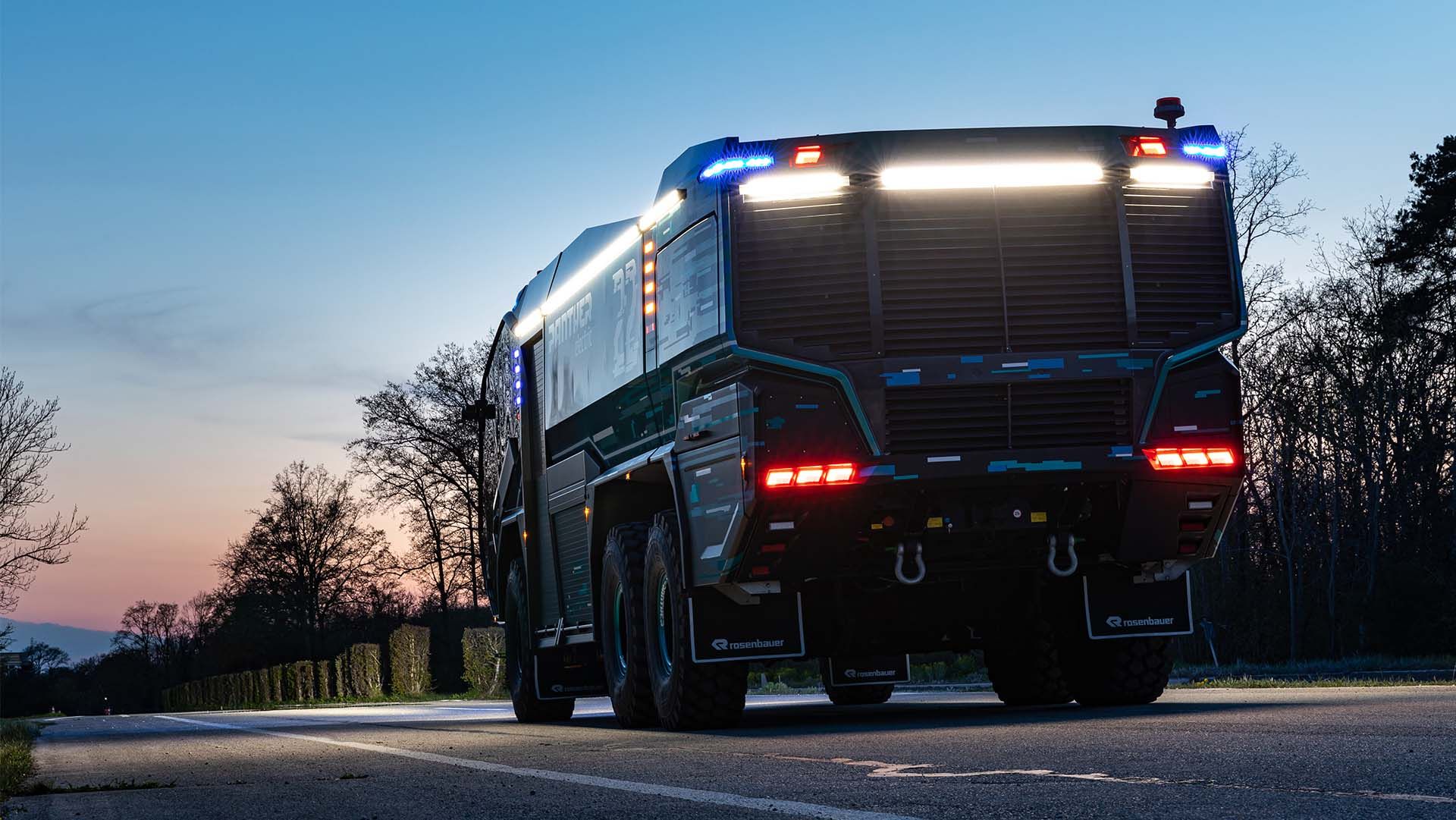 Our innovations
speak for themselves.
30 years of fascination:
The world of the PANTHER!
Find out more!
Release after release: more innovations are coming soon!
Rosenbauer has a track record of changing the future. And as a world leader in technology and innovation, we've already revolutionised the market on more than one occasion - and we're ready to do it again thanks to our groundbreaking new products.