Fewer emissions.
More safety.
The RT is based on a radical new design, making it unlike any other vehicle. It represents a milestone in firefighting technology. Equipped with state-of-the-art technology, the hybrid vehicle combines safety, ergonomics, functionality and digital operational support – with a strong focus on sustainability. Rescue workers, affected persons and local residents alike will appreciate this vehicle's revolutionary technology and battery powered drive, enabling emissions-free and virtually silent operations. So the RT is setting new visionary standards in climate protection, noise control and health protection.
Easy to steer.
Hard to beat.
Reaching your destination safely.
The drive design with its low center of gravity and balanced, even axle load distribution provides important handling stability in every situation.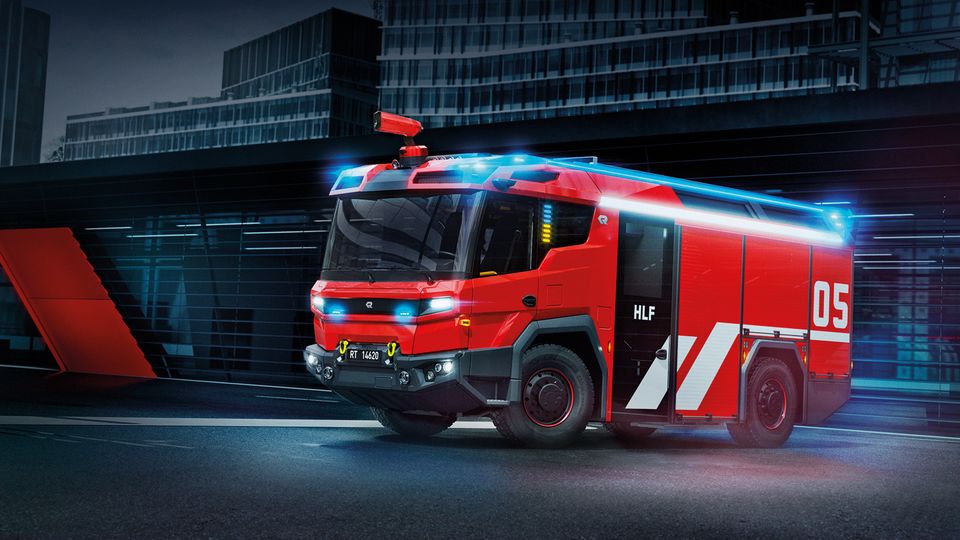 Small turning radius.
The newly developed wheel suspension facilitates a larger steering angle. This considerably reduces the turning radius, especially in an all-wheel drive system.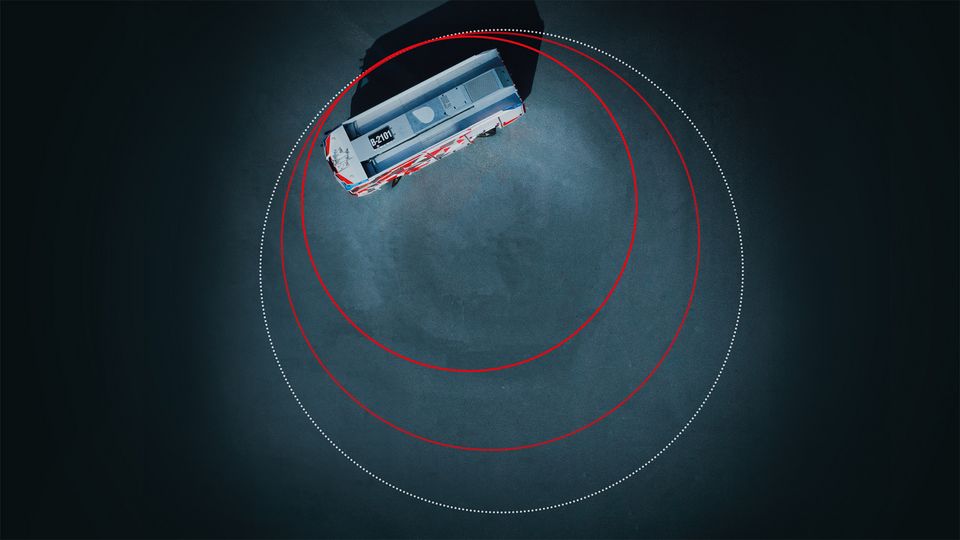 Keeping a clear view.
Sophisticated sensor technology in the electronic mirror system combined with blind spot detectors and rear cameras provide valuable operational support for the driver.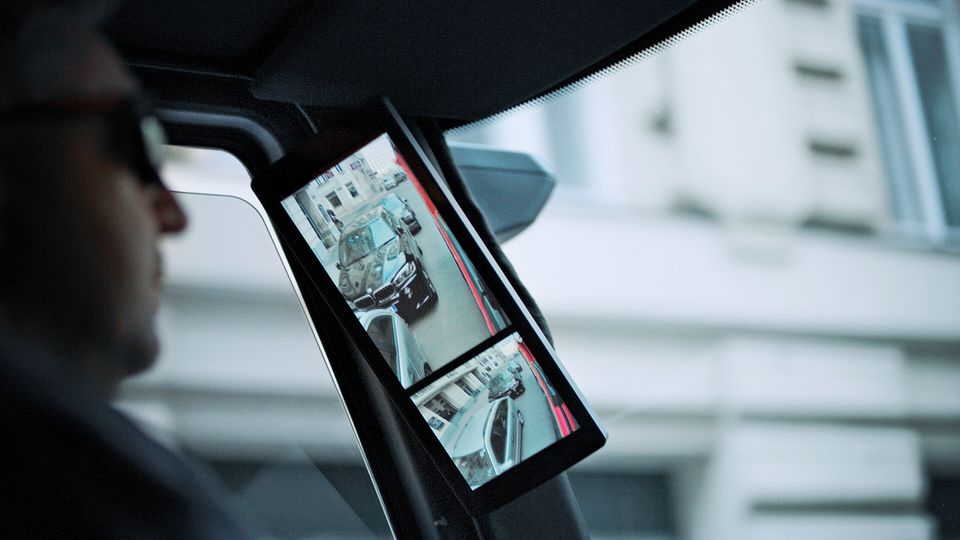 Digital connections.
The RT has its own communication system with autonomous Wi-Fi, drone integration and a permanent link to the operations center and EMEREC data center. This enables the direct transfer of crucial data.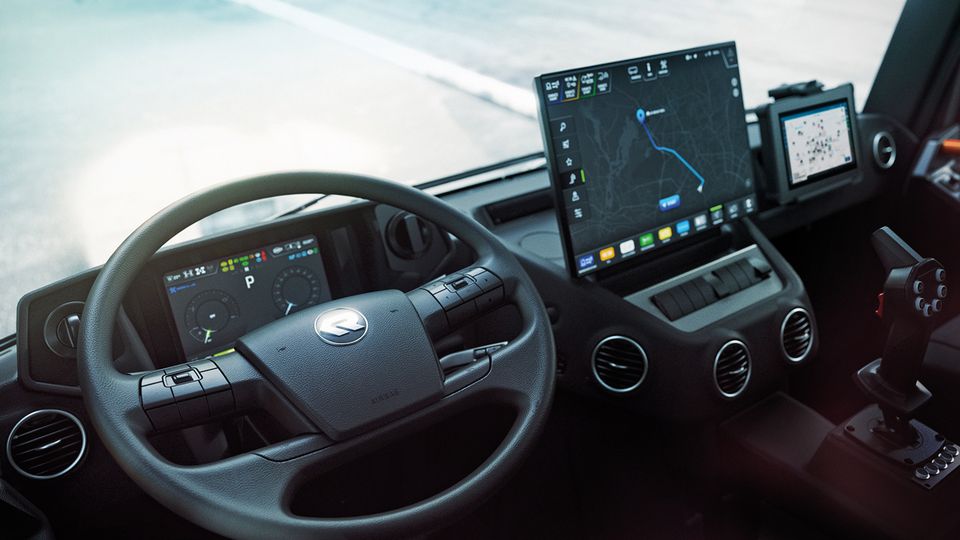 Reaching your destination quickly.
Two electric motors with a total output of up to 360 kW (490 hp) power the RT as soon as it is started, providing an unprecedented amount of propulsion.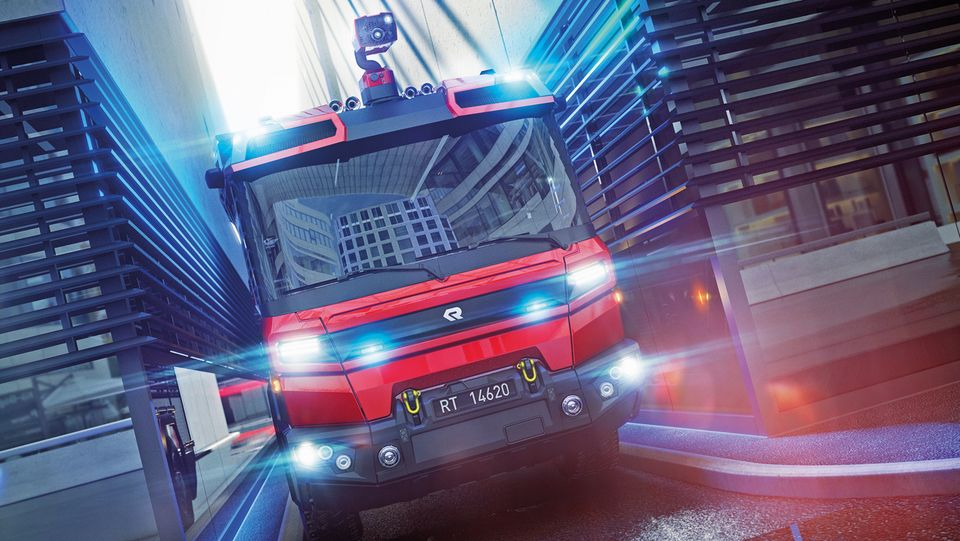 "Green" is not his colour.
But his concept.
Safe and eco-friendly.
The climate, rescue workers and affected persons, residents and passers-by all benefit from minimised emissions and less noise pollution.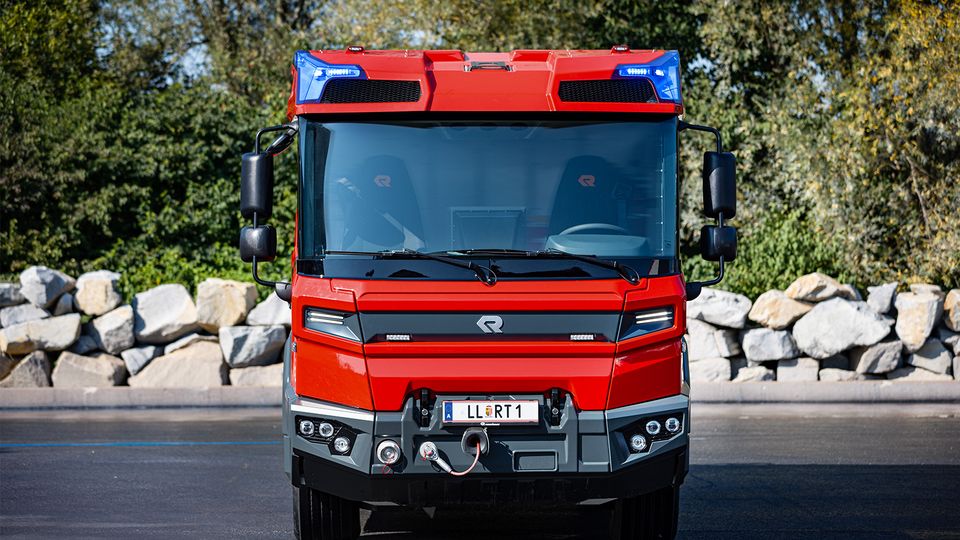 Top power, zero emissions.
In addition to high torque and impressive horsepower, the RT's electric drive system offers another major advantage on the road: zero local emissions.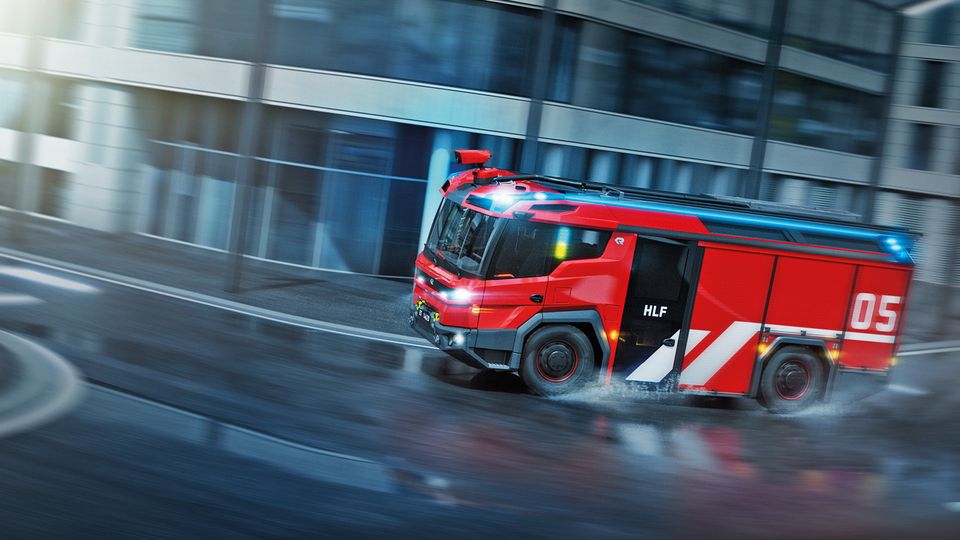 Flexible charging.
Three-phase alternating current from industry-standard heavy current outlets can charge the RT's batteries. DC charging stations offer minimal charging times and thus are the preferred choice if the RT is used intensively.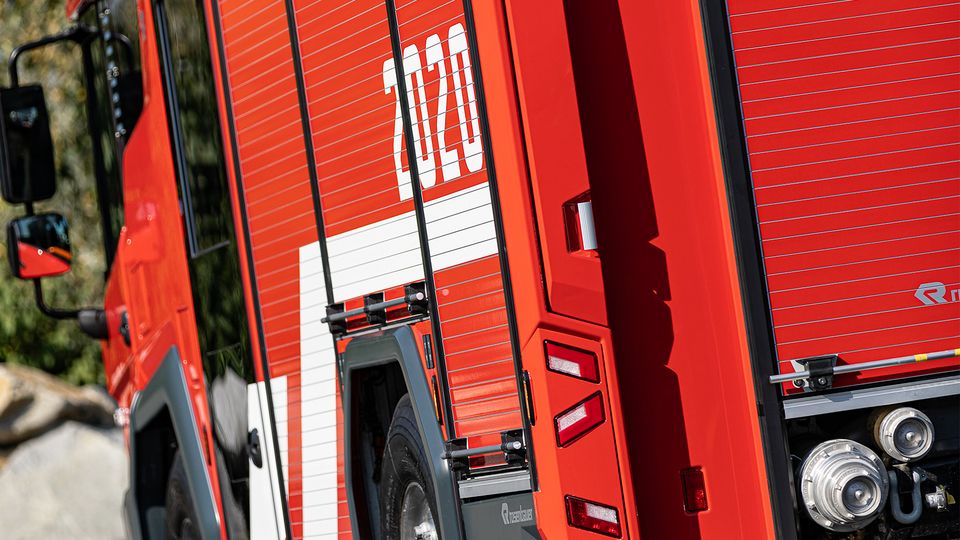 More operational power.
Auxiliary devices such as fans or submersible pumps can be easily powered with the RT's batteries, turning the RT into a mobile power plant on site.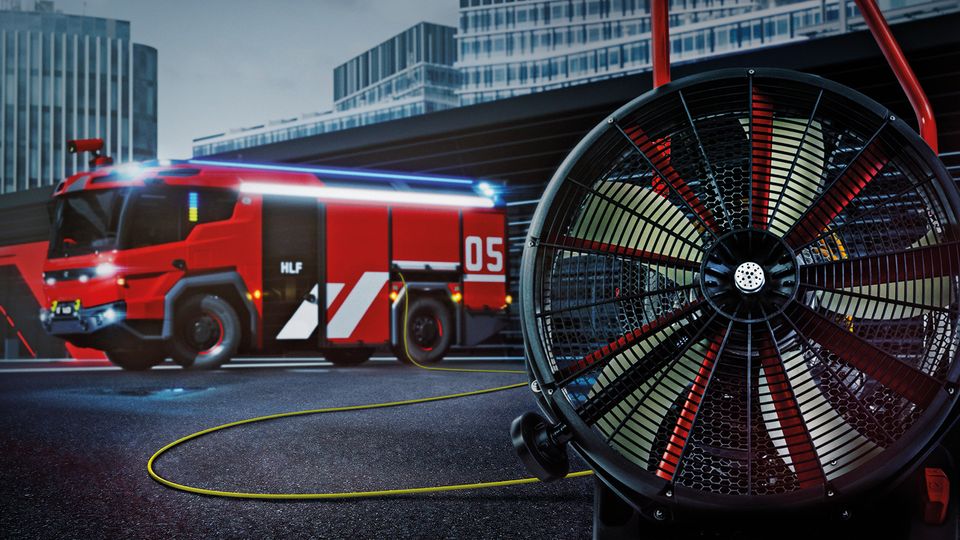 The Energy Backup System.
This tandem module combines a state-of-the-art six-cylinder diesel engine with an electric motor as a power generator to provide an extra energy boost for longer operations. It can be used to power the RT and external devices if the batteries run low.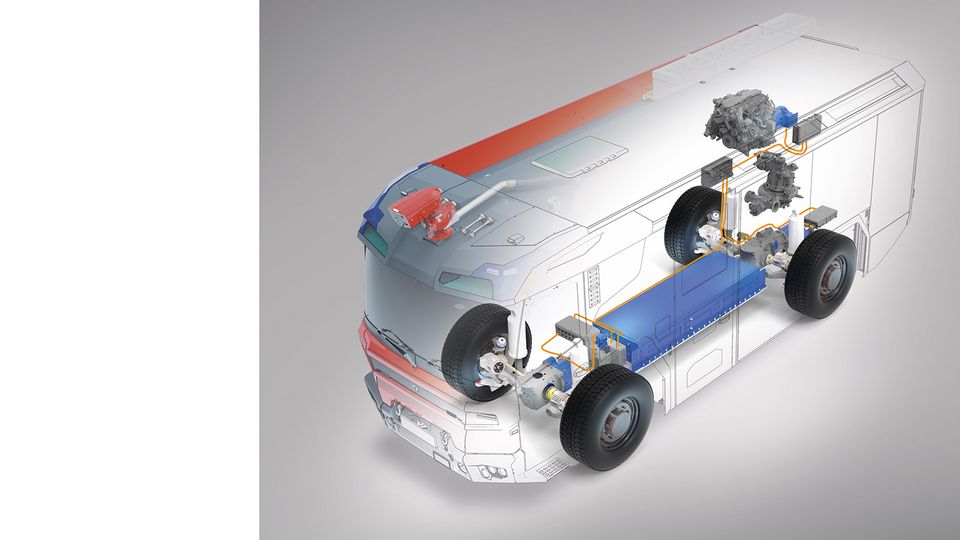 Experience here,
how revolutionary things
are created.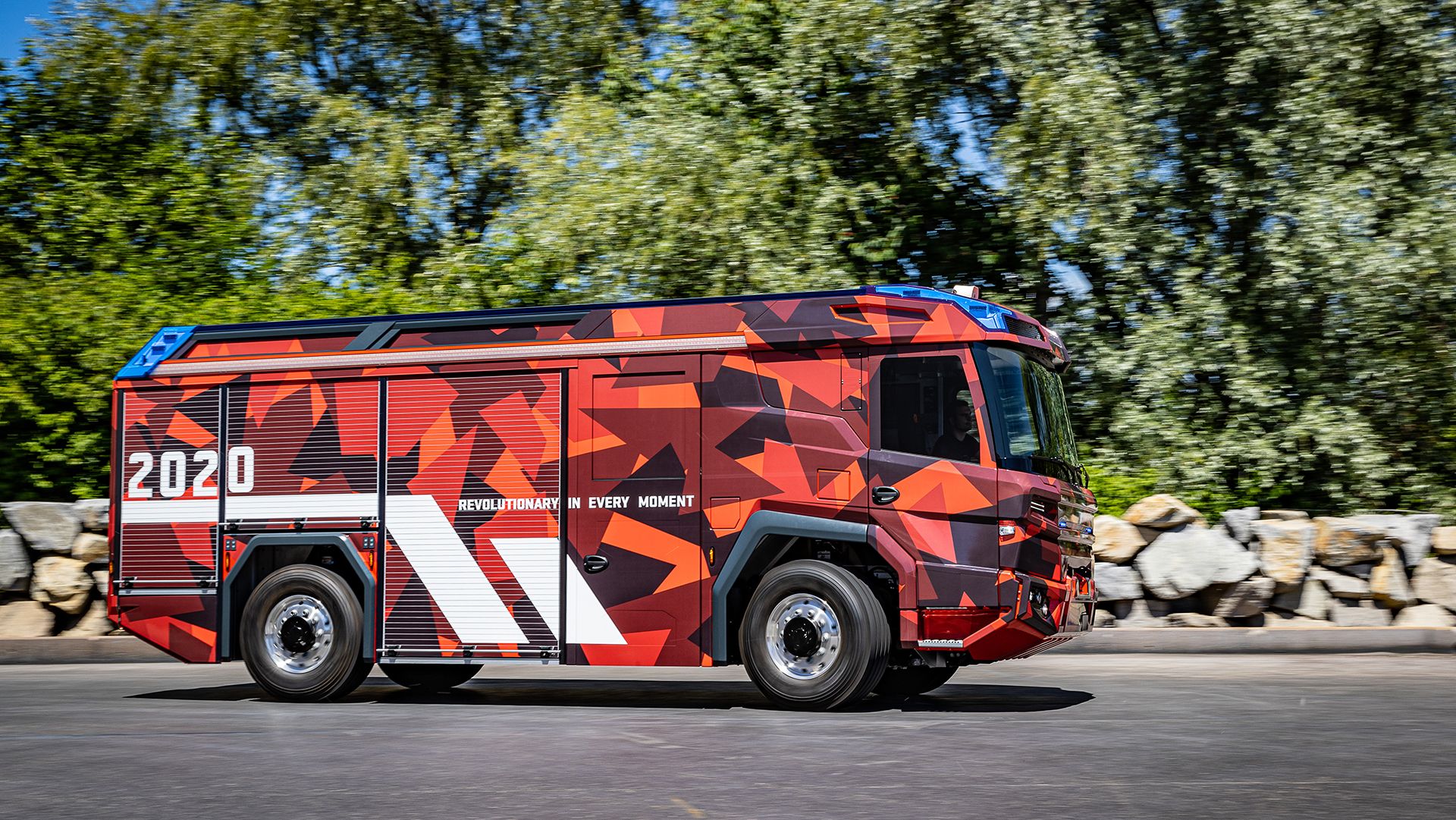 Our innovations
speak for themselves.
What has changed with the new RT?
Everything. Find out more!
Release after release: more innovations are coming soon!
Rosenbauer has a track record of changing the future. And as a world leader in technology and innovation, we've already revolutionised the market on more than one occasion - and we're ready to do it again thanks to our groundbreaking new products.