Easy to use.
Highly customizable.
No two firefighting operations are the same. Emergency workers must be able to react quickly on site. It is absolutely vital that the correct equipment is made available quickly, safely and easily. The new rolling container RTE RC Profile offers all this, and much, much more. It can be individually customized, is extremely resilient, and of the highest quality. Most of all, however, it is the unique technical solutions that make the rolling container an unbeatably safe, user-friendly and indispensable tool for use during rescue operations. In addition, a base area of 1.2 m x 0.8 m – the size of a standard EU pallet – means that the RTE RC Profile can fit into any standard vehicle.
Lightweight construction.
Robust design.
Durable and robust.
Anodized aluminum extrusion profiles are linked by special form-fit connectors, inserted into profile sections, and screwed into place for added strength. The result is outstanding stability and durability.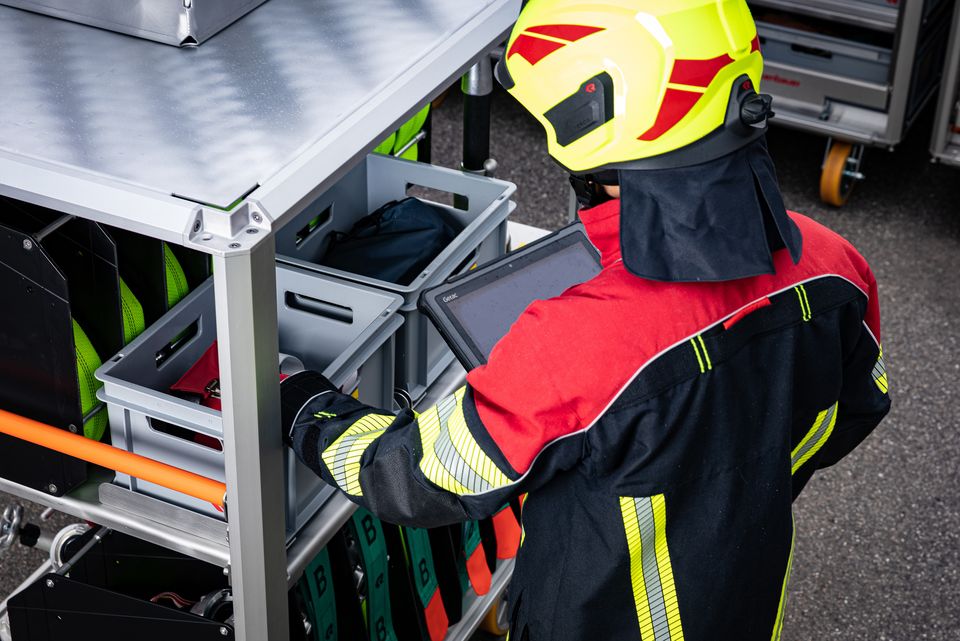 Especially stable.
The well thought-out construction and high-quality materials mean the container is astonishingly lightweight, weighing in at just 50 kg. Fully loaded, however, it can be used to safely transport up to 700 kg total weight either using castors at ground level, or through the air using lifting lugs.
Safe braking.
All roll-on/roll-off containers are fitted with dead man's brakes: the container brakes automatically as soon as the handlebar is released, and is brought to a standstill. Two types of brakes are used for this purpose, either stainless steel cone brakes or drum brakes.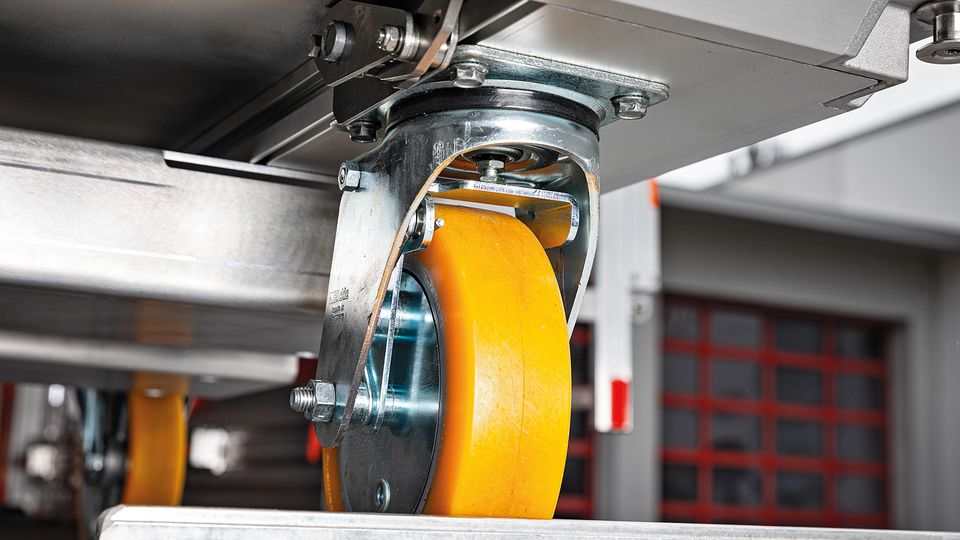 Optimized steering.
The Rosenbauer rolling containers are fitted either with two swivel and two fixed castors or with four swivel castors. The castors themselves are made of highly resistant polyurethane. This makes them extremely durable and ensures that they do not develop flat spots with continued use.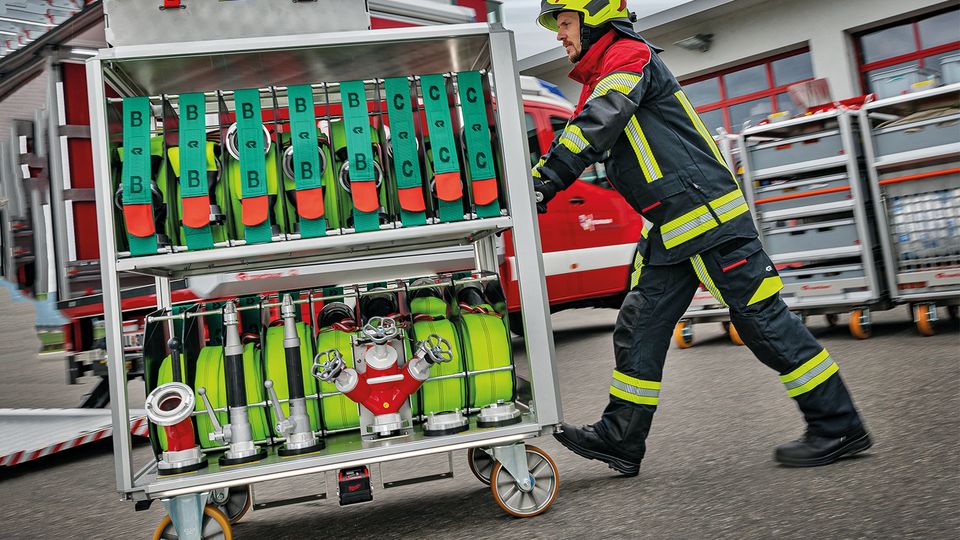 Efficient concept.
Seasoned reliability.
Tightly secured.
The RTE RC profile can be quickly and easily secured via a rail installed in the fire-fighting vehicle. A special locking device also prevents the container from tipping over during the journey – even under very high lateral and longitudinal forces.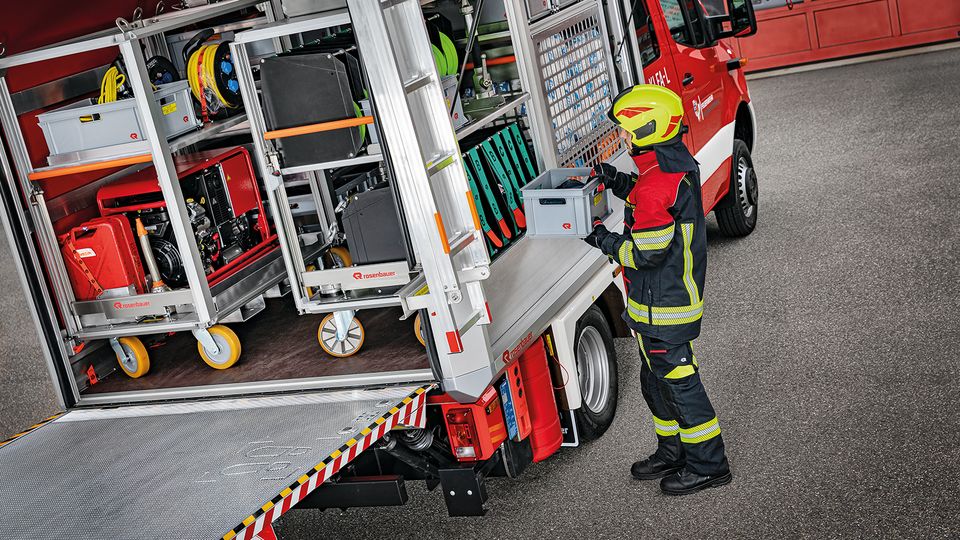 Easy single bar operation.
Simply press down the orange handlebar to gently set the RTE RC Profile in motion. As soon as it is released, the bar pops back up, bringing the container to a halt. The smooth action and single bar mechanism are designed to make handling significantly easier.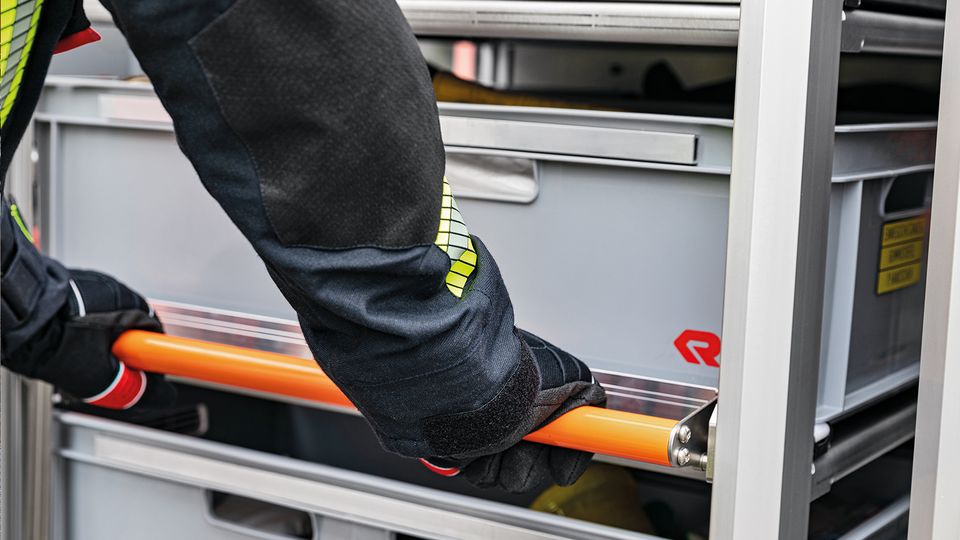 Chamfered profiles.
The extruded profiles of our rolling containers all feature a distinct chamfer on the outside. This feature minimizes the risk of injury and makes maneuvering in confined spaces, such as inside the vehicle, much easier, thus allowing the containers to be stowed away quickly.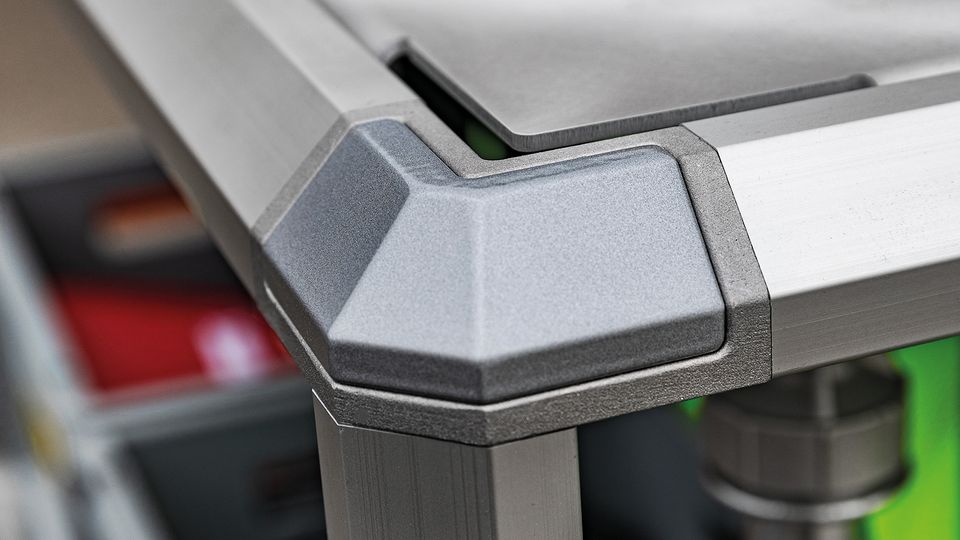 Plenty of scope for customization.
No compromises.
Ready-made concepts.
The RTE RC Profile is as versatile as the operations for which it is used. In addition to various size and weight categories and brake and castor configurations, we also offer a range of body designs.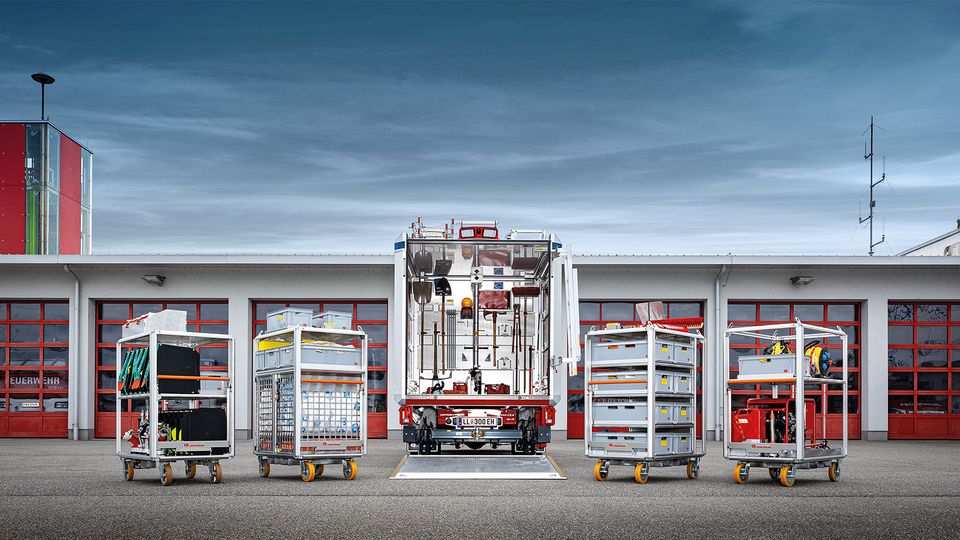 Other options.
Shelves, cover plates and grid walls
Forklift skids, Lifting lugs
Towing eyes for cable winch loading
Locking device to keep running in a straight line
Corner connector caps
LED lighting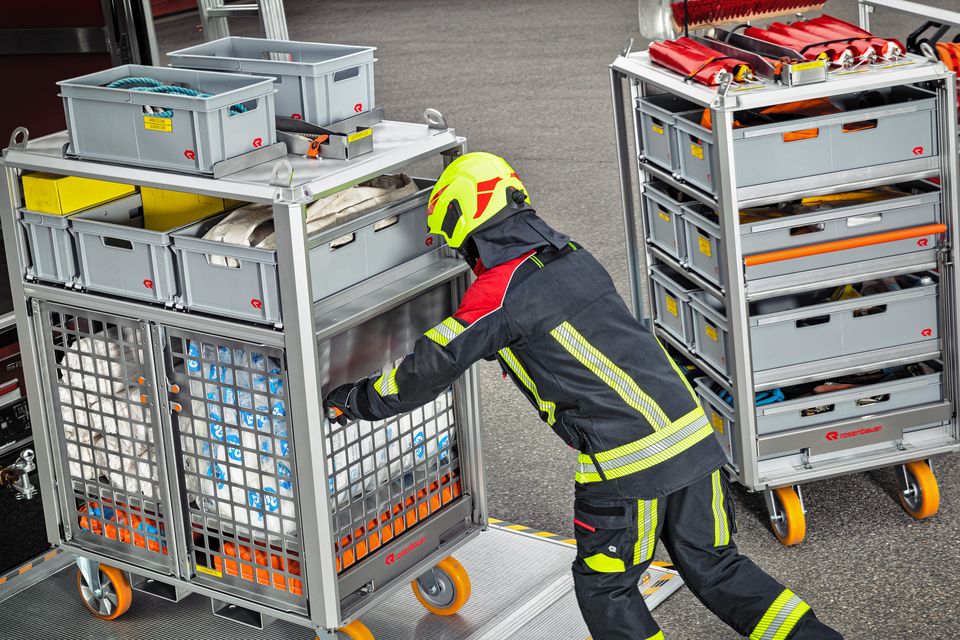 Perfect visibility.
LED lighting to compensate for poor lighting conditions and floor floodlights to enable faster detection of bumps make the RTE RC Profile the ideal tool in any situation. The lighting units are integrated in the profiles and are operated by a replaceable batter.
For that moment,
when you need easy handling
and an efficient design.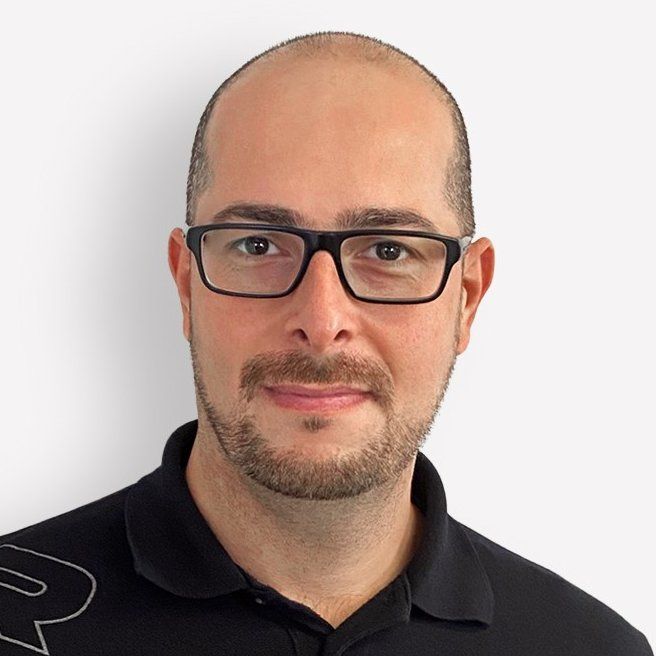 Our innovations
speak for themselves.
Made to keep everything in its place: our rolling container RTE RC Profile. Find out more!

Release after release: more innovations are coming soon!
Rosenbauer has a track record of changing the future. And as a world leader in technology and innovation, we've already revolutionised the market on more than one occasion - and we're ready to do it again thanks to our groundbreaking new products.