Aerial Ladders
Reliable. Powerful. Fast.
Narrow streets, parked cars, lush city greenery: The locations where aerial ladder vehicles are used are as varied as the requirements for payload and functionality. To enable rescuers to access sites even in the tightest of spaces, Rosenbauer's engineers emphasize on flexible installation and a compact operating radius. The aerial ladder range starts at 20 m and extends to 64 m working height.
When it comes to new and further developments of aerial ladders and rescue platforms, we also refer to practical relevance and focus on the benefits for the fire department and its emergency force. Sophisticated functionality meets robustness, top quality and innovative cutting-edge technology, as well as an appealing design. For decades, Rosenbauer aerial ladders have stood for safety and reliability, combined with intuitive operability. That is why fire departments all over the world put their trust in us.
Different requirements and various options.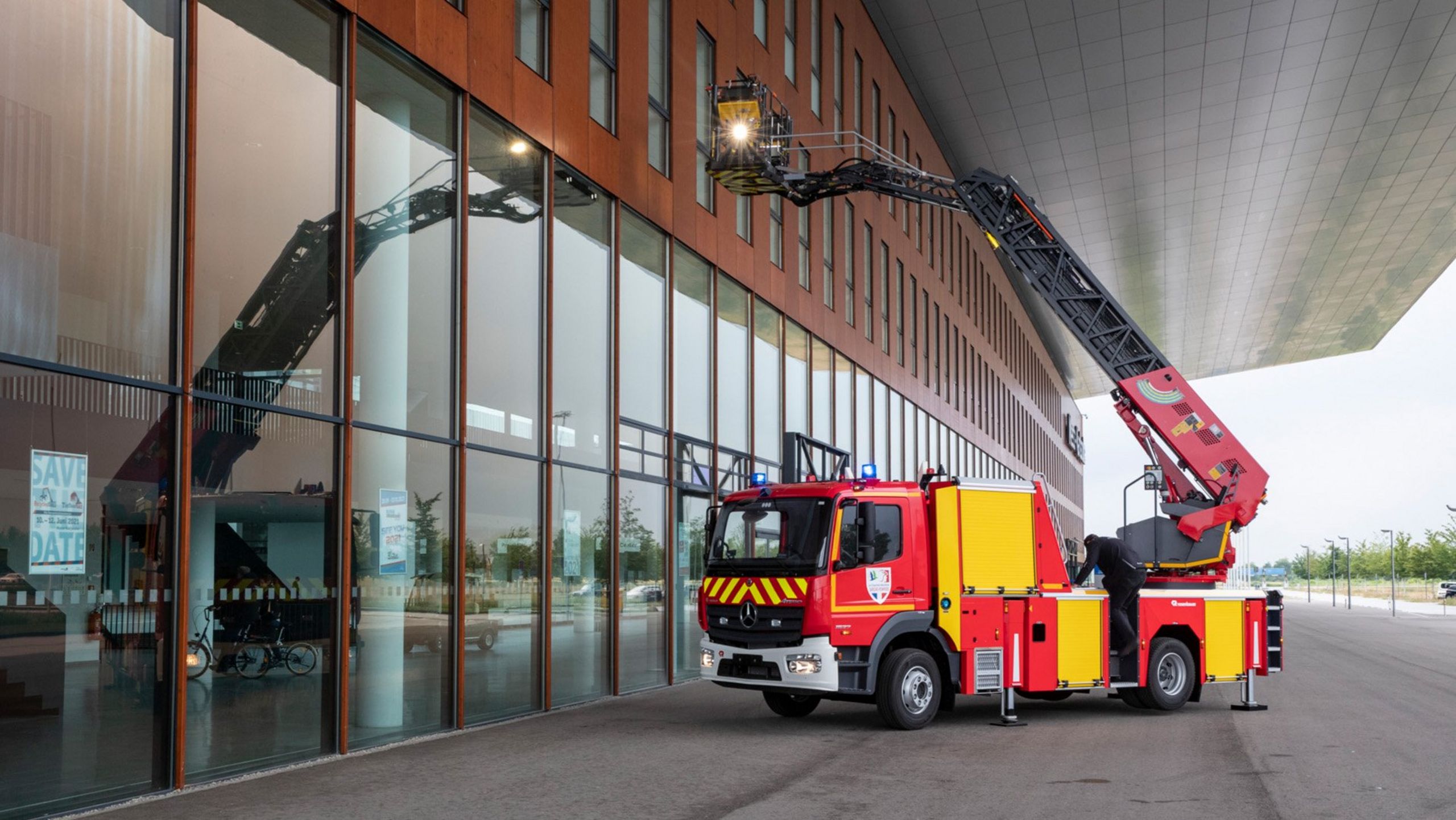 The right aerial ladder for every requirement.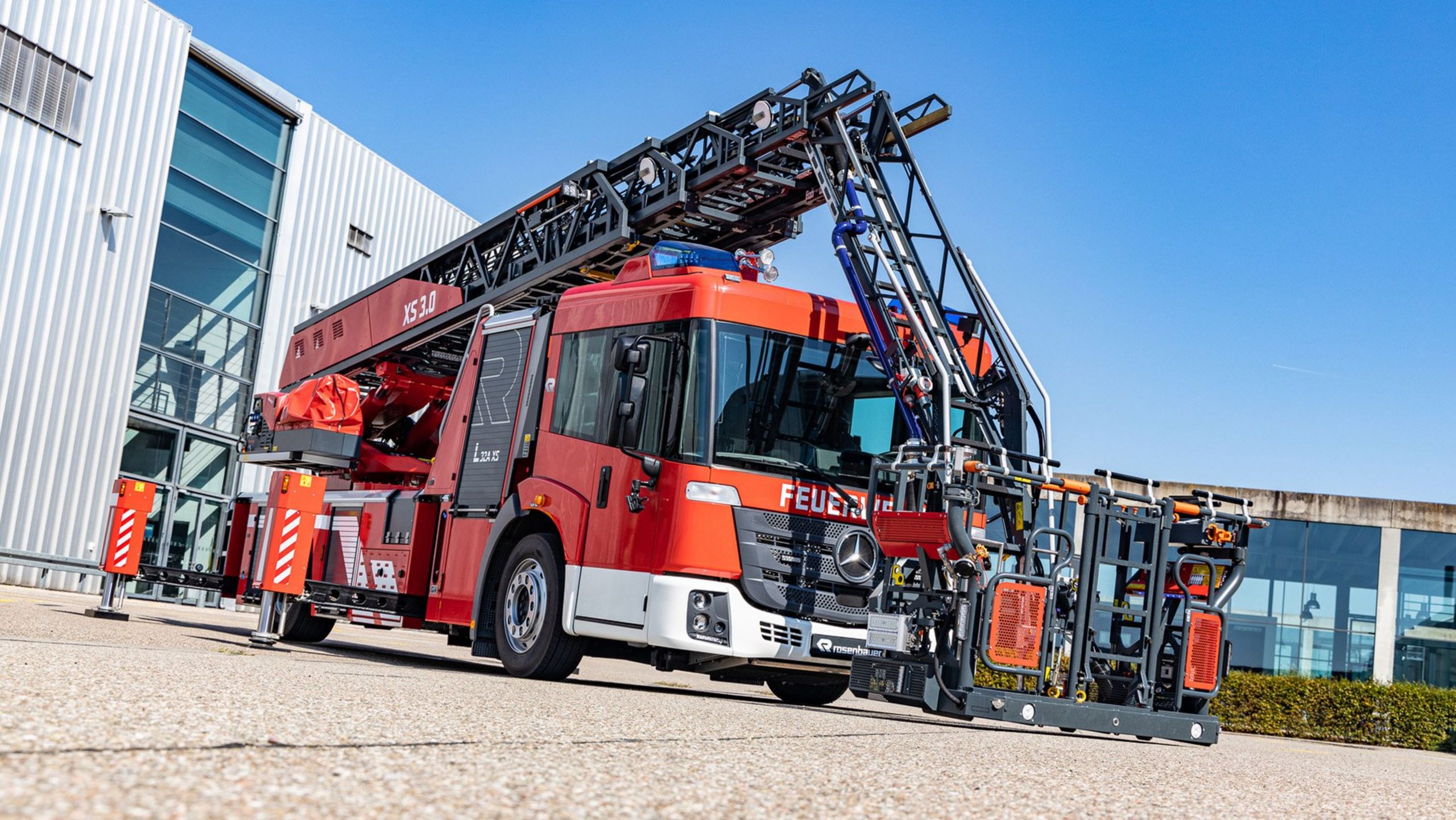 Aerial ladders are needed in the most diverse locations.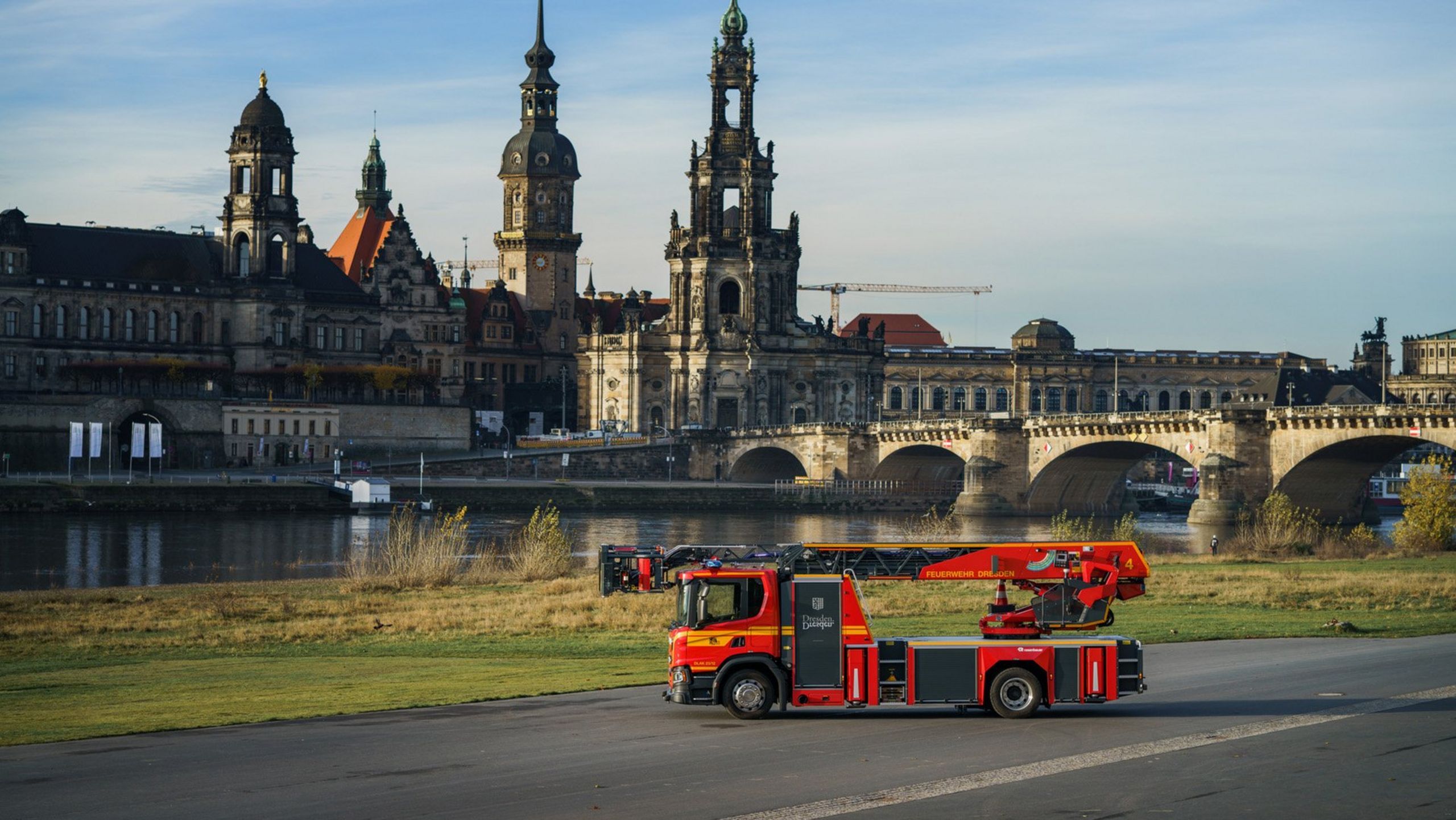 L32A-XS electric
Same technology. New drive.
With the L32A-XS electric Rosenbauer has created the world's first aerial ladder on a fully electric series chassis - the Volvo FE Electric. It uses the same superstructure technology as turntable ladders on internal combustion engine chassis and is therefore just as functional, powerful and reliable. To ensure the same operability, serviceability and availability of spare parts, only high-quality OEM components are used for the L32A-XS electric. The drive concept consists of a total of 3 electric motors for travel and auxiliary drive, which obtain energy from three lithium-ion batteries. This enables typical aerial ladder operations to be carried out reliably and without interruption.
Click here for more information:
Data sheet
3D Visualization
Productvideo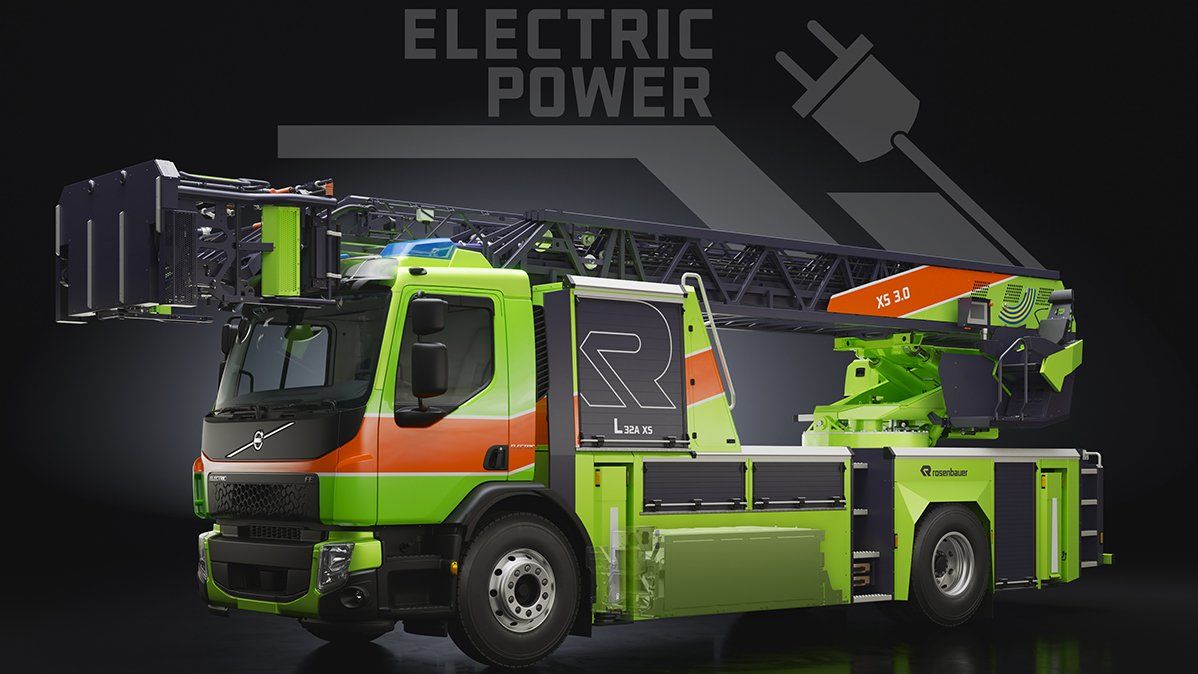 L32A-XS Flat
Down-to-earth design. House-high operation.
Underpasses, gateways or passages: With a total height of only 3 m for the articulated turntable ladder L32A-XS Flat no problem, even if the access to operations is below modern building regulations. This vehicle concept can also be considered for fire departments that cannot accommodate aerial rescue vehicles with standard vehicle height. At the same time, the aerial ladder offers a working height of 32 m and an impressive width of only 2.4 m - at the front and rear axles. Also, the additional rear-axle steering allows for a very small turning circle. Passing through narrow spaces is therefore no problem.
Click here for more information:
Website
360°-Scan
Video tour
Video ladder welding shop
Data sheet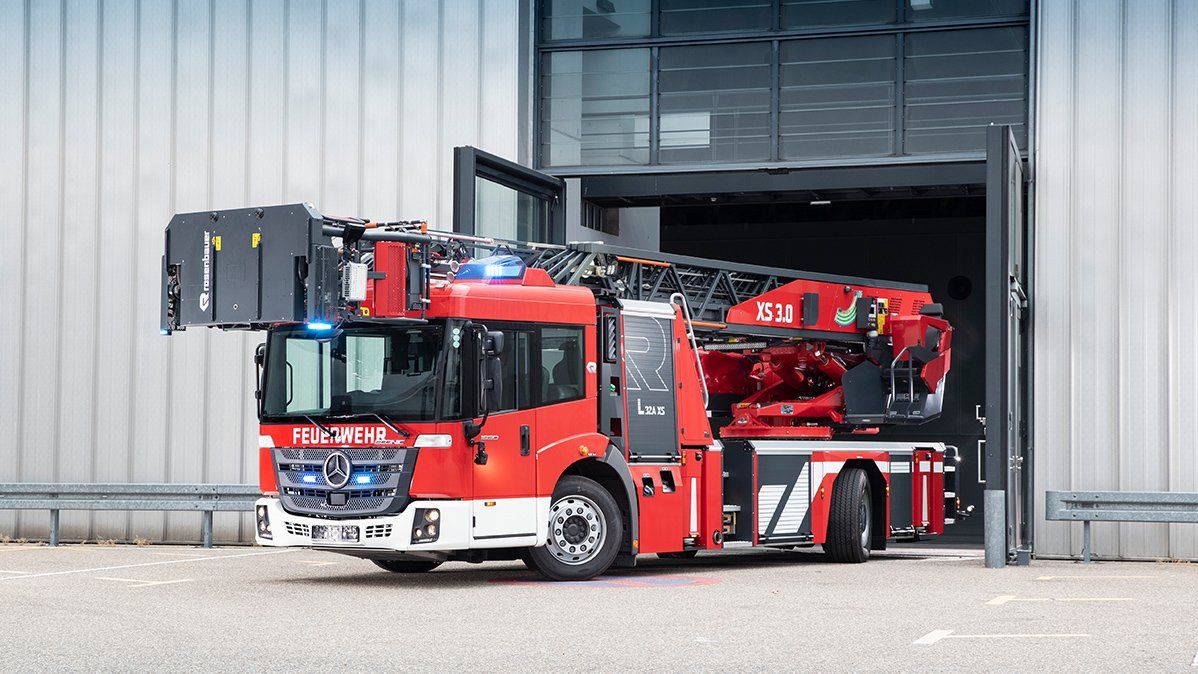 L27A-XSC
Various requirements. Versatile possibilities.
The L27A-XSC aerial ladder is equipped with a 5-section ladder set including a tiltable cage arm and stands out with its short design. This is a game changer, especially in tight spaces, guaranteeing maximum maneuverability. In addition, the flexible installation and the compact operating radius allow access to any location. The turntable ladder is also convincing in terms of payload and safety (certified in accordance with EN 14043) and, with its stabilizing vertical-horizontal support, ensures a secure footing in every situation – within a support range of approx. 2.40 m to 4.65 m. The vehicle is also equipped with many certified anchor points for rescuing and securing as well as for the use of height rescue equipment.
Click here for more information:
Website
Data sheet
Video ladder welding shop​​​​​​​
​​​​​​​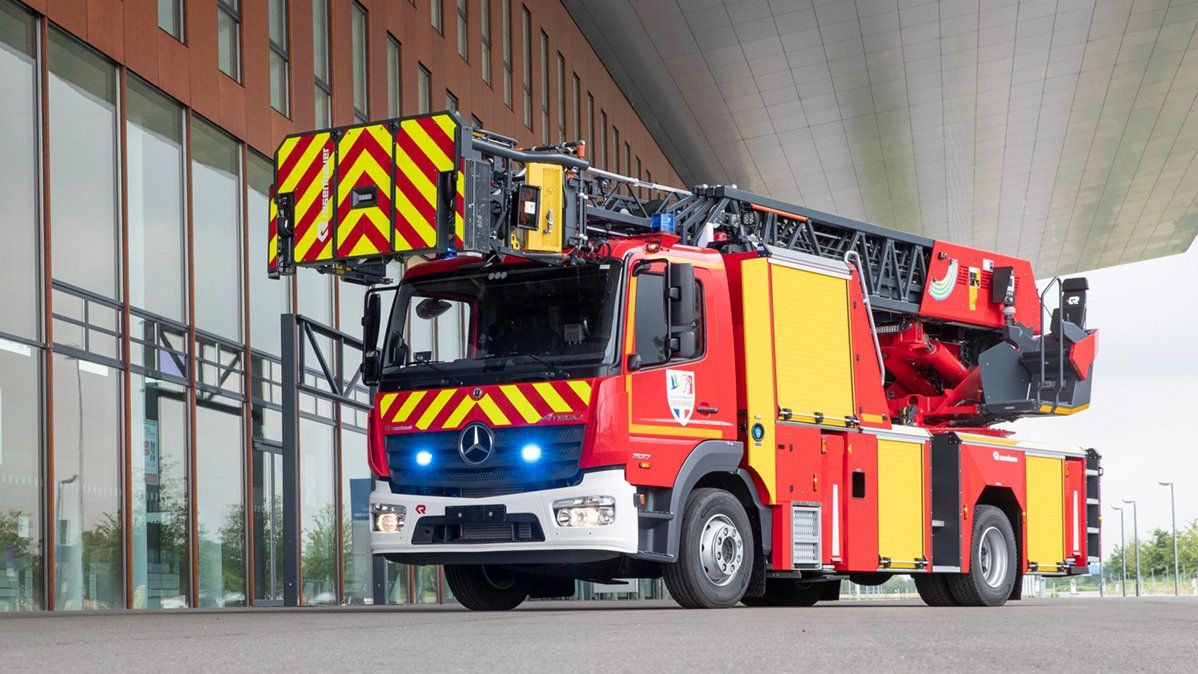 Aerial rescue platform
Speed and flexibility combined.
Intuitive, fast and reliable: Rosenbauer aerial rescue platforms offer maximum performance and reliability on different chassis. Depending on the design, these durable high-tech products meet all requirements of the EN 1777 or NFPA 1901 standard and reach working heights of 32 m to 62 m. Individual vehicles for aerial rescue and aerial rescue in combination with integrated and proven Rosenbauer extinguishing technology (water pump and water tank), with or without crew cabin can be realized. This means that a wide variety of operational scenarios can be mastered and different fire department tactical procedures can also be taken into account when designing the vehicle. The aerial rescue kit with telescopic, multi-part main and cage boom is characterized not only by high-quality materials, but also by electrical and hydraulic line routing integrated into the telescope. It can handle complex height rescue as well as firefighting operations. In addition, the unique safety concept ensures safe, supported operation - in all positions.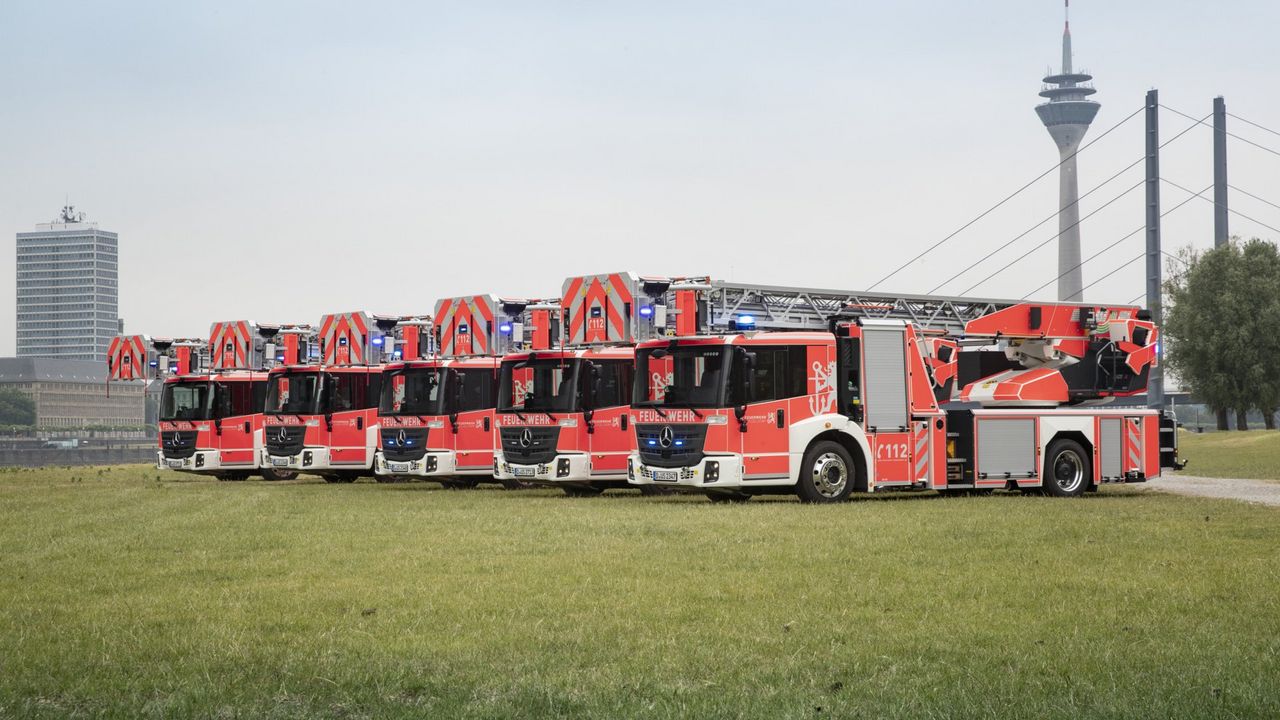 B45 3.0
The newest generation of aerial rescue platforms
The B45 3.0 is the first series aerial rescue platform of the new generation (CAN-Safety control technology). It features a new operating concept including new displays (Rosenbauer LCS or Logic Control System), which can also be found in many other Rosenbauer vehicles. Numerous new pieces of equipment can be permanently or removably attached to the new rescue cage, which can also be used on the rescue cage of the current generation turntable ladder.
Click here for more information:
​​​​​​​